Below we show how to combine an even pages file and an odd pages file into one PDF, achieving proper order.
Téléchargez vos fichiers
Les fichiers sont sécuritairement téléchargés dans une connexion cryptée. Les fichiers restent en sécurité. Après le processus, ils sont immédiatement supprimées.
Vous préférez ne pas télécharger vos fichiers et travailler hors ligne?
Try Sejda Desktop. Les mêmes options que le service en ligne et les fichiers ne quittent jamais votre ordinateur.
Cliquer sur «Télécharger» et sélectionner un fichier de votre ordinateur.
Déplacer et déposer les fichiers sur la page fonctionne aussi.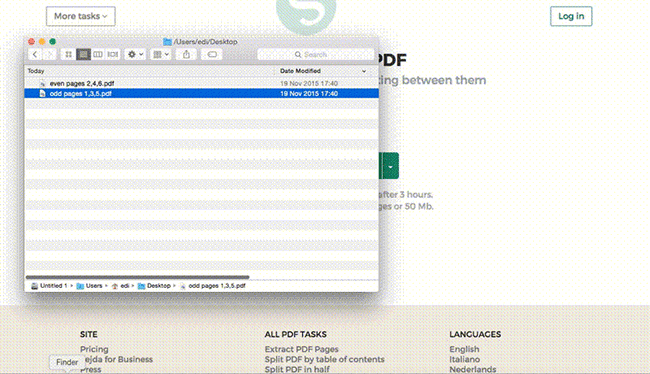 Fichiers Dropbox et Google Drive
Vous pouvez sélectionner des fichiers PDF de votre Dropbox ou Google Drive.
Développer l'onglet « télécharger » et sélectionnez vos fichers.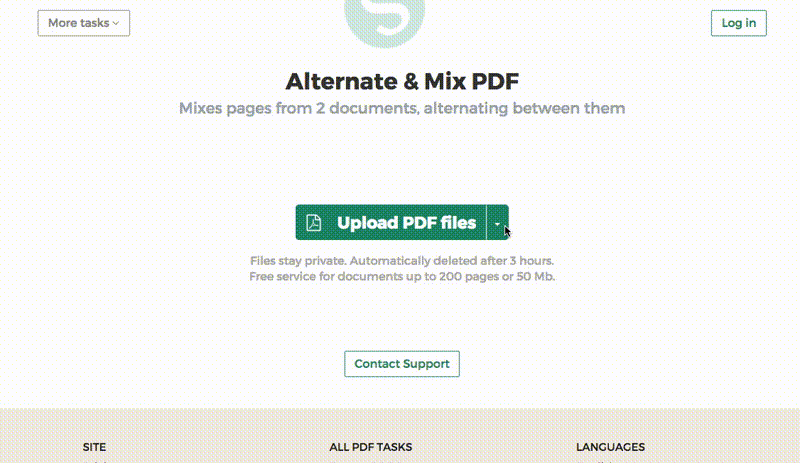 Step 2: Ordering pages
Most common scenario is having two sets of files, even pages PDF and odd pages PDF, from an auto feed scanner. To combine them, just click the Alternate & Mix button.
In case the files were not uploaded in the right order, drag and drop to switch them. The odd pages PDF file is should be on the left and even pages PDF file on the right.
Tip: Collate reversed even pages
If the even pages were scanned in reversed order (10, 8, 6, 4, 2, etc) you should select the "Pick pages in: Reverse Order" option. The result will have the pages in proper order: 1, 2, 3, 4, etc.
Tip: Alternating using different step
By default 1 page is picked from each document, when alternating. Need to alternate using a different step?
For example: pages from left.pdf should be inserted between every 3 pages from right.pdf. In this case, change the "Switch document after reading" value to 3 for the right file.