Below we show how to add text watermark to PDF documents online, for free. Works on all desktop platforms including Mac.
Step 1: Select your PDF document
Téléchargez vos fichiers
Les fichiers sont sécuritairement téléchargés dans une connexion cryptée. Les fichiers restent en sécurité. Après le processus, ils sont immédiatement supprimées.
Vous préférez ne pas télécharger vos fichiers et travailler hors ligne?
Try Sejda Desktop. Les mêmes options que le service en ligne et les fichiers ne quittent jamais votre ordinateur.
Cliquer sur «Télécharger» et sélectionner un fichier de votre ordinateur.
Déplacer et déposer les fichiers sur la page fonctionne aussi.
Fichiers Dropbox et Google Drive
Vous pouvez sélectionner des fichiers PDF de votre Dropbox ou Google Drive.
Développer l'onglet « télécharger » et sélectionnez vos fichers.
Step 2: Add Text Watermark
Click the Add Text button at the top of the PDF page. You should see a text watermark being added.
Click on it to edit the text. Type 'Draft' or 'Classified' to try it out.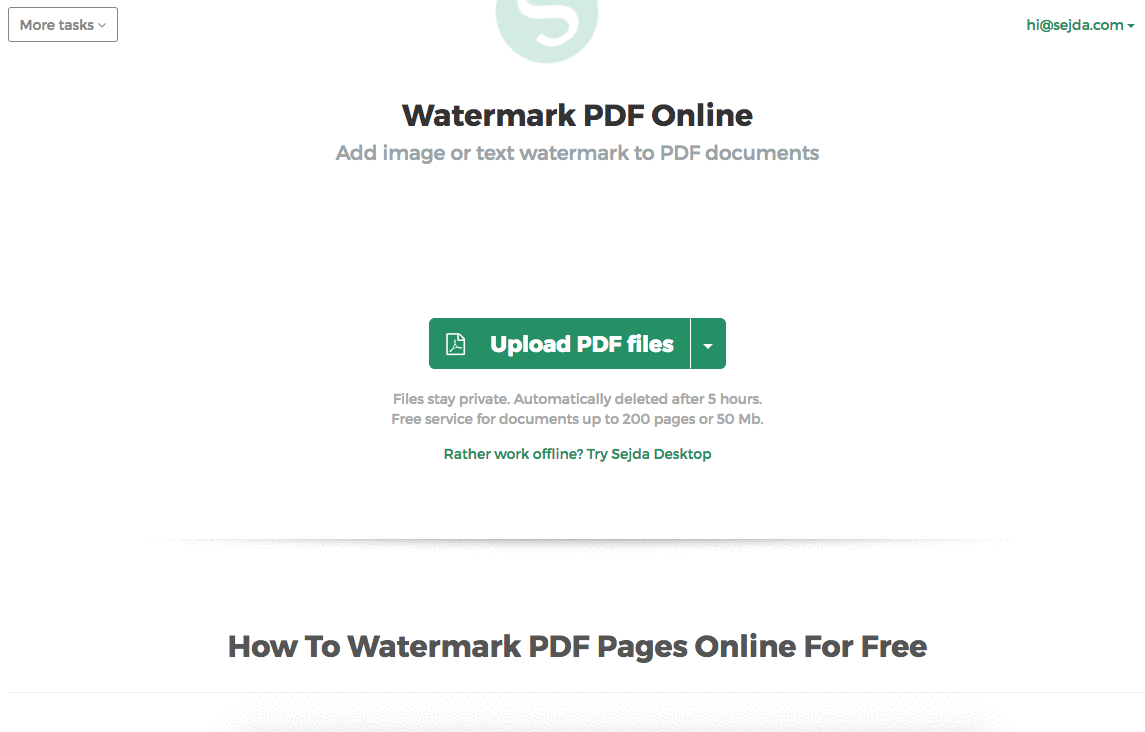 Step 3: Change text size, rotation and location on page
Click and drag the text watermark to change the location on the PDF page
Drag the rotation handle to rotate the text watermark.
Click and drag the resize handles found on the sides to change font size.
Step 4: Change text color, transparency and font family
Click on the text watermark to reveal its associated menu.
One can change the transparency of the watermark, making the text more or less opaque.
Watermark text color can also be configured, together with the font used for the text.