Below we show how to add text watermark to PDF documents online, for free. Works on all desktop platforms including Mac.
Step 1: Select your PDF document
Cargue sus archivos
Los archivos se cargan de manera segura con una conexión encriptada. Los archivos se mantienen seguros. Tras procesarlos, son eliminados permanentemente.
¿Prefiere no cargar sus archivos y trabajarlo sin internet?
Try Sejda Desktop. Las mismas características que el servicio en línea, y los archivos nunca dejarán su ordenador.
Haga clic en 'Cargar' y seleccione archivos en su ordenador local.
Arrastrar y soltar archivos en la página también funciona.
Archivos de Dropbox o Google Drive
También puede seleccionar archivos de Dropbox o Google Drive.
Expanda el menú 'Cargar' y seleccione sus archivos.
Step 2: Add Text Watermark
Click the Add Text button at the top of the PDF page. You should see a text watermark being added.
Click on it to edit the text. Type 'Draft' or 'Classified' to try it out.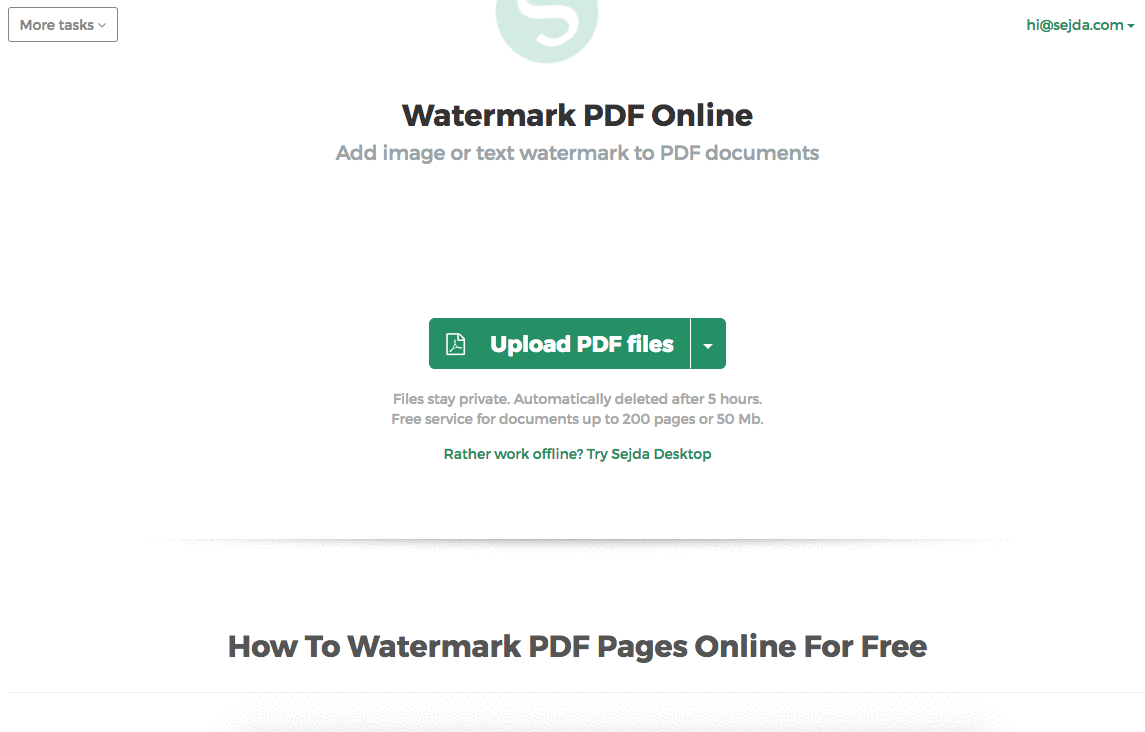 Step 3: Change text size, rotation and location on page
Click and drag the text watermark to change the location on the PDF page
Drag the rotation handle to rotate the text watermark.
Click and drag the resize handles found on the sides to change font size.
Step 4: Change text color, transparency and font family
Click on the text watermark to reveal its associated menu.
One can change the transparency of the watermark, making the text more or less opaque.
Watermark text color can also be configured, together with the font used for the text.