Below we show how to add text watermark to PDF documents online, for free. Works on all desktop platforms including Mac.
Step 1: Select your PDF document
Carica i tuoi file
I file vengono caricati in sicurezza con una connessione crittografata. I file rimangono in sicurezza. Dopo l'elaborazione, verranno eliminati permanentemente .
Preferisci non caricare i tuoi file e lavorare offline?
Try Sejda Desktop. Le stesse funzionalità del servizio online e i tuoi file non se ne andranno mai dal tuo computer .
Clicca 'Carica' e seleziona i file dal tuo computer.
Funziona anche trascinando e rilasciando i file nella pagina.
File Dropbox o Google Drive
Puoi scegliere file PDF anche da Dropbox o Google Drive.
Espandi il menu 'Carica' a discesa e seleziona i tuoi file.
Step 2: Add Text Watermark
Click the Add Text button at the top of the PDF page. You should see a text watermark being added.
Click on it to edit the text. Type 'Draft' or 'Classified' to try it out.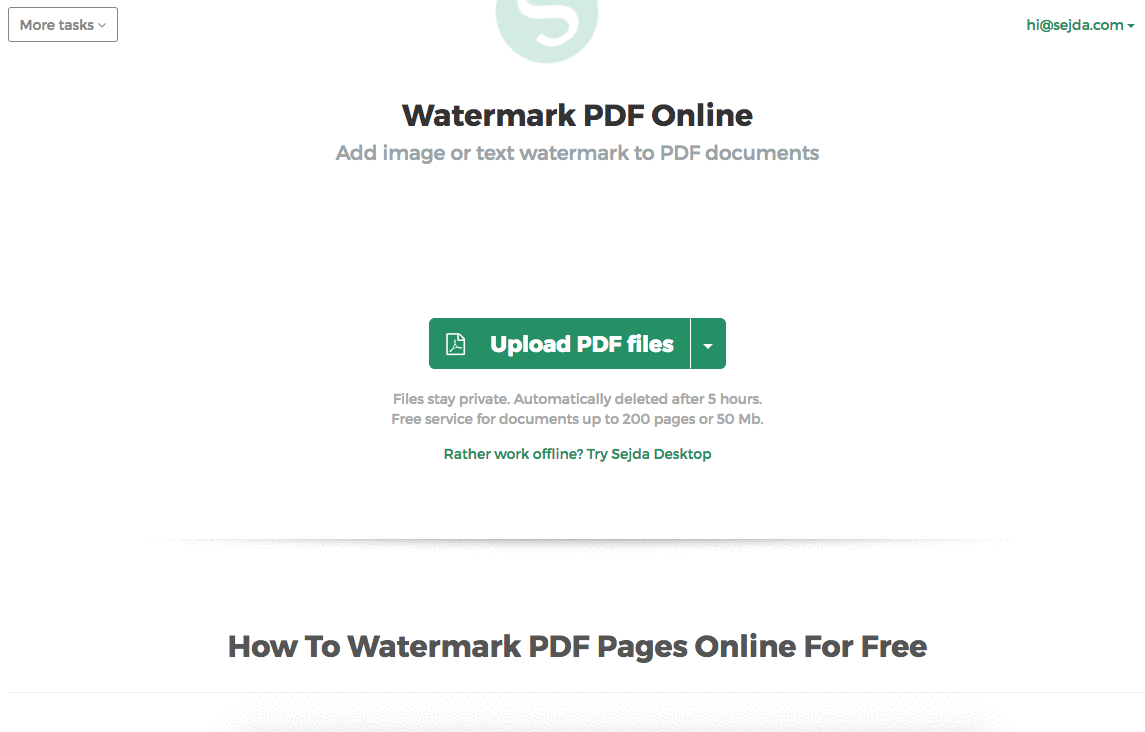 Step 3: Change text size, rotation and location on page
Click and drag the text watermark to change the location on the PDF page
Drag the rotation handle to rotate the text watermark.
Click and drag the resize handles found on the sides to change font size.
Step 4: Change text color, transparency and font family
Click on the text watermark to reveal its associated menu.
One can change the transparency of the watermark, making the text more or less opaque.
Watermark text color can also be configured, together with the font used for the text.